St. Johns Restaurants
Big Kahuna's Barbeque
So this place isn't the oldest in the' hood, but Gary Herrera, owner and Big Kahuna, does it the old fashioned way. He smokes and barbeques all his own meat right there on the premises. This guy with the huge, welcoming smile is so serious about barbeque that he holds classes and even barbeque competitions. The next one will coincide with the St. Johns parade that is the annual kick off to the Rose Festival season.
Recently Gary's won best caterer of the year, and the restaurant is listed as one of Portland's Top100. He's the champion of several competitions across the States. And with dishes like Kalua Pig Plate and Smoked Beef Plate with some Mango Cole Slaw, the Big Kahuna seems to have found the winning recipe for making a place in St.Johns' history.
Big Kahunas Barbeque and Catering
8221 N. Lombard Street
Portland, OR 97203
Call in Orders:  (503)522-4012
Catering:  (503)310-9480
Pattie's Homeplate Café & Fountain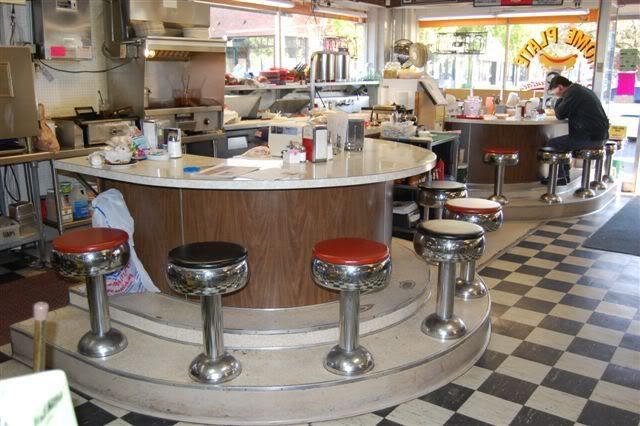 The namesake proprietor grew up in St. Johns and used to spend her typical 1950's Saturday sitting at the fountain here slurping Orange Julius. Two doors down, the owner of the fencing center says he's seen a photograph of Pattie when she was a kid sitting at the tables and chairs outside – the exact same tables and chairs that are there today.
All grown up, Pattie bought the place with her husband, Gene, and expanded the deli into a café. They serve exactly what you would expect they would in a place that still holds sock hops every first and third Saturday of the month.
Pattie's Homeplate Café & Fountain
8501 N. Lombard Street
Portland, OR 97203
(503) 289-7285
St. Johns Businesses
Blue Moon Camera and Machine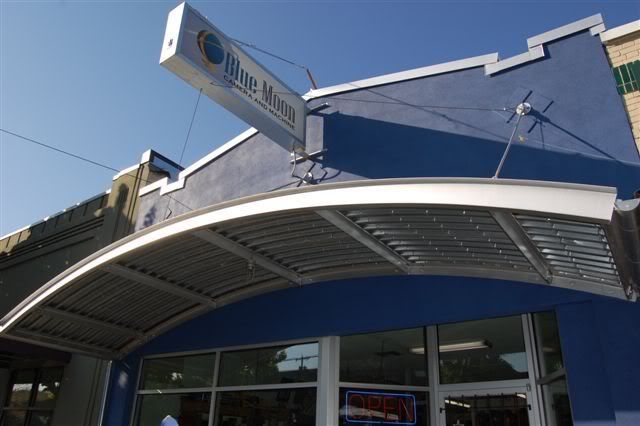 In the market for that latest digital SLR? Or maybe you're just in the mood to talk mega pixels? Not in St.. Johns you're not and certainly not at Blue Moon. Purists down to their last shutter, each and every Blue Moon staff member is a photographer first, clerk second, and they do traditional film the traditional way.
On the equipment sales' side of the business, they carry the best vintage: '60s, '70s, and early'80s. And processing Blue Moon style means high quality optical printing that requires hands-on, one negative at a time attention, focusing optical light through each individual frame.
In addition to keeping tradition, Blue Moon has also made one in these parts. As they see literally every exposure their customers submit, the staff sets aside a few favorites for an annual customer show that has become so popular that this year there's an encore presentation.
Blue Moon Camera and Machine
8417 N. Lombard Street
Portland, OR 97203
(503) 978-0333
The Man's Shop
"Meet us and be well dressed," was the slogan started 67 years ago by Ben and Jean Leveton.  Their sons, Bob and Jerry, have run the operation for many years now, and The Man's Shop remains the place for smart attire, as well as casual, in the neighborhood that made them who they are. 
Though the family has always had a St. Johns presence, once upon a time they also owned a second location in Jantzen each.  There they won the "Friendliest Store in the Shopping Center" so many years in a row that the trophy was finally retired with their name on it.  What bearing does that have on their business today?  According to the brothers, they learned what it meant to run a truly friendly shop from St. Johns– and that's right where they continue to do so.
Suits, shirts, ties, tuxes, and even tee's and jeans, The Man's Shop has a tremendous inventory in addition to their share of smiles.
The Man's Shop
8511 N. Lombard Street
Portland, OR 97203
(503) 286-3514
Tulip Pastry Shop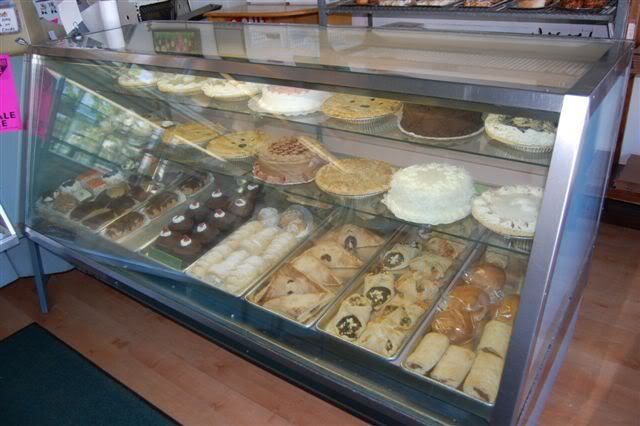 Making St. Johns smell good since 1950, Tulip Pastry Shop still bakes every last morsel like they did 57 years ago –from scratch.  In the business for so long, Melodie Presler of its third generation can't smell any of her family's sweeter concoctions anymore, but it's worth it for cakes that are legendary, custard – also from scratch – that is a conversation piece, and a Marionberry stuffed cookie that will demand your complete attention.
Tulip Pastry Shop
8322 N. Lombard Street
Portland, OR 97203
(503) 286-3444
Vinyl Resting Place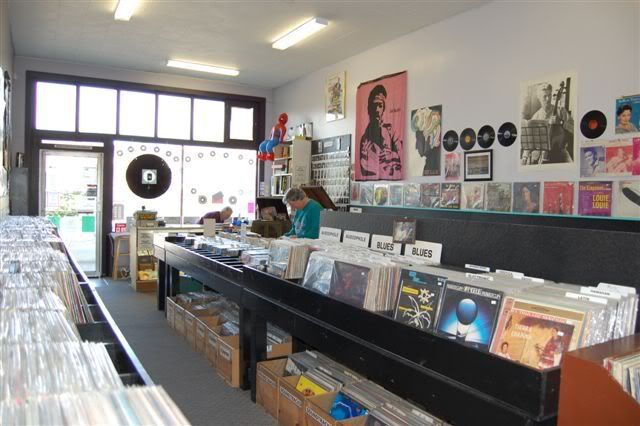 Vintage vinyl + historic St. Johns = no brainer. Owners Toby Tobiason and Pat Smith, Vinyl Magnate and Vinyl Design respectively, specialize in jazz, folk, and blues records but also carry much more.  Simply stated, they "buy and sell interesting records." 
They like the old sound, and they like the old way. Pat likens their store to any mom 'n pop shop you'd find in the 50s.  And why shouldn't she? Doing it the vintage way, her commute consists of walking and waving to the neighbors who frequent the shop so often they have their pictures, like family, hung in a collage on the wall.
Vinyl Resting Place
8332 N. Lombard Street
Portland, OR 97203
(503) 247-9573
Weir's Cyclery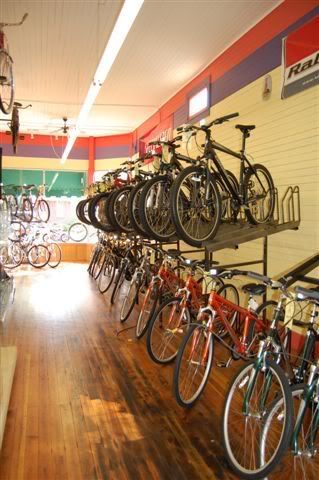 Before biking was Portland chic.  Heck, practically before God created the seventh day so that the entire city could go biking – there was Weir's Cyclery. Saddling bipeds on two wheels since 1925, Weir's is the oldest in the city.  Passed from father to son a couple of times, Weir's is in its third generation with Steve, who specializes in Specialized and Raleigh, and of course the traditional Red Line for the BMX crowd. 
In reality, not a word needs to be written about these folks.  They've been thriving for 82 years in the crazy obsessed Portland bike culture.  'Nuff said.
Weir's Cyclery
5036 N. Lombard Street
Portland, OR 97203
(503) 283-3883
Fencing Center - Salle Trois Armes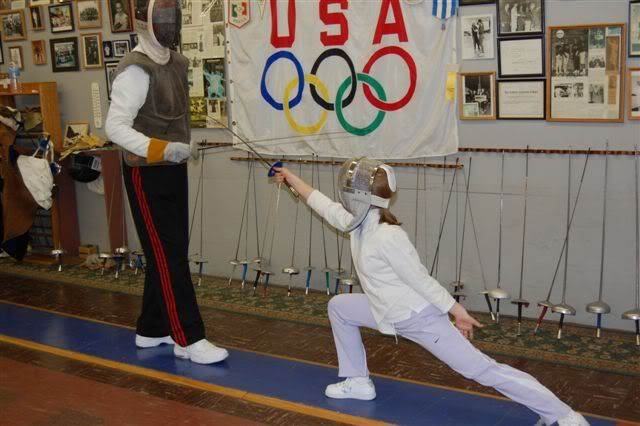 A classic sport for a classic neighborhood –it's a classic fit.  Coach Rocky Beach and Maitre d'Armes, Delmar Calvert, who received his first fencing master's degree while serving in the French Foreign Legion, offer traditional as well as Olympic-style sport fencing training for both genders, all ages.
The story goes that Coach Beach used to live in St. Johns in its earlier heyday and believed it would be the right spot to which to return to establish his beloved fencing center.  At that time, however, the area had suffered a few setbacks, and his shop lights were the only ones on the street still bright come nighttime.  But Rocky believed if he just kept those bulbs burning, other proprietors would eventually come.  Suffice to say that Kevin Costner and a cornfield have nothing on Rocky Beach and Portland's St. Johns neighborhood.
Fencing Center– Salle Trois Armes
8517 N. Lombard Street
Portland, OR 97203
(503) 285-2962
Writers' Dojo & Ecole de Budo RAJI International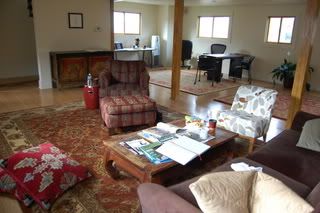 To someone unfamiliar with either form of expression, literary endeavors and martial arts may not seem to share much in common. The truth of the matter is, however, that both are at once the impetus for and the result of a singularity of focus and an ongoing dialogue with the inner human landscape and its systematic excavation –each of which requires sacred space wherein a discipline of practice may be nurtured. And on a neighborhood corner in St. Johns, that is exactly what has been birthed.
Located one block off Lombard on N. Chicago Avenue, brothers Jeffrey and Michael Selin have co-created dojo space – that is, places of practice and training – for each of their passions. Jeffrey is a fulltime fiction writer and owner/proprietor of Writers' Dojo. And, sharing the same grounds, Michael owns and operates Ecole de Budo RAJI International, an esteemed school of budo, or martial art.
For starters, let's just say that Writers' Dojo is, without a doubt, a writer's dream workspace. A handsome affair absolutely dedicated to fostering inspiration without distraction, the dojo engages the vibe and quiet necessary to encourage the writer's voice to scream across the page.
Why does the Portland literary community need this, you might ask. Well, as every writer knows, the work gets done on an internal plane– a plane that is, perhaps ironically, murderously difficult to access if the writer isn't comfortable externally. Home often proves problematic as disturbances mount exponentially, and throne dirty fork in the sink never fails to be the locus of all sentient thought. And though a writer will kiss an opportunity not to work as if the messenger of a stay of execution, we ultimately all know that not so much as a syllable will stumble across the page until we bow our heads and humbly cooperate.
So what has traditionally been our recourse? Sadly, many of us have been forced to hit the streets like derelicts in a pathetic hunt former moments of a warm though evolving ass spot, where we feel at mental and emotional home and motivated by the atmosphere without being sidetracked by it. Jeffrey refers to these artistic nomads as the" Diaspora," the writing exiled forever destined teak out a page or two amidst the coffee shop interned, sound tracked byte arrhythmic backbeat of the explosive steam function on the latté machine.
That is why Jeffrey has conceived a place where members can come at absolutely anytime of the day or night and work at an office reserved just for them in an atmosphere where quiet, personal, and inspirational space may be worshiped and achieved in a communal setting. It is an environment one hundred percent of, by, and for writers where, in like mind and like need, they can at last be immersed in the culture and surroundings that cradle good work, not confound it.
In addition, practical office support paraphernalia like Wi-Fi, coffee, and printers are all perks of membership as is a community area in the area called "the conversation pit." A living room-esque section that features comfy couches and chairs, the pit is the perfect place for a relaxed reading break or possible sidebar withal fellow member as well as a tremendous venue for writers' groups to meet and/or hold workshops.
Just a few paces across the courtyard, the school with the French name offering timeless Japanese traditions holds classes in Aikido, Iaido, and Jodo. Aikido is the youngest of the martial arts offered at the school, but it is based on 800-year-old techniques. In Iaido, the emphasis is drawing, cutting, and sheathing the classical Japanese sword known as the katana. And finally, the focus of Jodo is The Way of the Stick or, in other words, the manipulation and mastery of the traditional long stick or jo.
By passing down these traditions, preservation of ancient art forms" without distortion" is the goal at Ecole de Budo RAJI International in a very comprehensive facility that offers an impressive, fully padded class area upstairs. Downstairs, there are showers and an inviting kitchen and seating area designed for collective moments and relaxation.
Taken together and separately, Ecole de Budo RAJI International and Writers' Dojo comprise hallowed ground for the principle of being true to ones art. Each discipline has its own devoted structure, but they share a common courtyard and garden area, and members enjoy amending of amenities. For example, a writer pulling an all-nighter at the dojo is welcome to walk twenty paces across the yard to enjoy a shower at the school of martial arts. His or her participation in classes is of course also encouraged. Similarly, the school's students may join the dojo for writing workshops and to grab a cup of requisite literary caffeine.
Writers' Dojo & Ecole de Budo RAJI International
7518 N Chicago Avenue
Portland, OR 97203
Dojo: (503) 706-0509 - www.writersdojo.org
Ecole: (503) 286-3625 - Ecole de Budo RAJI International
More Local St. Johns Business Listings
Blackbeard Music - 8160 N Jersey St.- (503) 289-3650
It's a Dog's Life Day/Play Care - 8709 N. Lombard St. -503-286-2668
Kelly's Housekeeping & Cat Sitting Services - Kelly Tadlock, Owner - 10135 N. Mohawk Ave. - (503) 234-6226
Maui Sunset Tanning, Salon and Day Spa - 8448 N Ivanhoe St. -503-283-9535
Ole' Ole' Restaurant & Taqueria - 8620 N Lombard St. -(503) 283-4321
Pathaya Thai - 9440 N Saint Louis Ave - (503) 289-4300
St. Johns Book Sellers - 8622 N Lombard - (503) 283-0032
St. Johns Health Center &
Natural Pharmacy - 8933 N. Lombard St. - (503)286-4400
The St. Johns Pub - 8203 N Ivanhoe - (503) 288-3286
One with Heart - Tulen Center for Martial Arts and Wellness -8641 N. Lombard St.
It's a Dog's Life (Doggy Day Care) at8709 N. Lombard - Even if you don't have a dog, it's like free TV from the outside, and they sell lots of delicious natural treats and cool toys inside.
St. Johns Theater -- Not to be confused with the McMenamin's Theater and Pub. They serve pizza and beer, good coffee,and general movie snacks, for prices you don't find in movie theaters (they'll tell you if you could get your purchase cheaper and they aren't trying to up sell you).